Pilcher's of Chatham operated this AEC Reliance 51 EML in Military Road Chatham about to load for a Theater trip to London 13th Jan 1961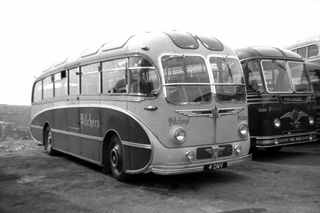 4DMV was a Burlingham Seagull C41C on a AEC Reliance Chassis was 4DMV from 1958
Fitted with a Duple Britannia C41F Body this AEC Reliance was new to Pilchers in 1961
This AEC Regal started life new to Pilchers in June 1931 with a Duple body but was rebodied in the late 1947'with this Beadle C32F body. KJ1563 was with Pilcher's until December 1961, I think this photo is from August 1961.
Thanks to Derek Jones for the updated information.
Plichers of Chatham operated EBU269 this was AEC Regal III in 1960. Photo taken at their Church Hill premises in Luton. This was taken on my first roll of colour transparency film, Italian made Ferrania color. Unfortunately this film faded with age if not mounted in sealed glass mount so only one roll of 7 has survived
Another ex M & D vehicle was GKR743 (DH450) a Bristol K5G from 1942 with a Weymann H56R body from 1950. Originally supplied to Chatham & District with a utility body it was based at the bottom of the hill at their Luton Depot.
Ex Maidstone and District KKK830 CO91 was an AEC Regal III with Harrington C41F body. This photo was taken in 1962, it was scrapped in 1964 have given a fair amount of trouble. I saw it broken down late 1962 and minus the engine in early 1963. Plichers also had it's sister KKK829.
TKE499 at the Garage in Luton. This was Pilchers first new AEC Reliance with a Duple C41C body purchased in 1954
196HMD was a 1956 AEC Reliance with a very nice Duple C41F Body. Notice to two ex M&D Double deckers and the coal truck. Pilcher's operated a coal/coke delivery service for many years.