After delivery the first 3 RW's were based at Watford and used on the 355 route to Harpenden. London Transport decided against Dual Entrance buses after 3 years of testing these Vehicles. This photo taken at Boreham Wood not long after delivery.
The Guy Single deck buses were used extensively in the northern area of London Country buses.GS51 at Hertford on a private hire. They were normally worked as one man operated.
Routemaster RMF254 254CLT working East Kent route 4 to Canterbury whilst being assesed at East Kent's Canterbury head office. East Kent decided on AEC Bridgemasters. Taken 1963.
TD95 - JXC288 was one of a batch of 100 Leyland PS1/Mann Egerton at Edgware Station alongside TD130 on 29th September 1961. This vehicle has been preserved by the London Bus Preservation Trust at Brooklands Museum
TD105 JXC298 was a Leyland PS1 with a Mann Egerton 30 seat body at Edgware Station 23rd June 1962.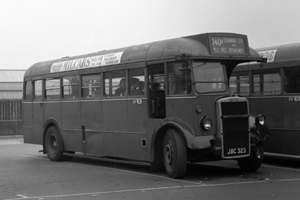 London Transport had 100 of these TD class vehicles. TD130 JXC323 at Edgware.
RLH23 MXX223 Lowbridge Weymann body seen on Route 248 to Hall Lane, Hornchurch was delivered 1952. Based at Hornchurch it was one of the few Central Area RLH's.
A nearside Photo JXC288 TD95 at Edgware alongside JXC282 TD89. Taken 23 Jun 1962 It's had a repaint since the previous photo
Pre-war Leyland Cub C73 (BXD698) at Dartford with an older T class behind. Picture dates from 1955
With the delivery of the final batch of RT's these STL's were stored at Dartford awaiting disposal. circa 1954
Looking very smart is GS14 MXX314 in Hertford Garage having recently repainted. These Guy's were used on the narrow roads in the country area and were One Man Operated.
GS15 MXX315 looks as if it has just returned from being repainted. Photographed at Hertford (HG) Garage on 14th March 1963.