THe Greenline version of the Routemaster was the RMC with a 57 seats and rear doors. Other enhancements include luggage racks for light luggage on both decks. They were used on the busier Greenline routes seen on the 718 Windsor to Harlow route.
Showing the rear doors is 479CLT (RM1479) seen passing the old Epping Garage in November 1963 on it's way to Windsor. It has the legal owner change to London Transport Board.
Routemaster RMF254 254CLT working East Kent route 4 to Canterbury whilst being assesed at East Kent's Canterbury head office. East Kent decided on AEC Bridgemasters. Taken 1963.
RT599 - HLX419 was based at Hertford and was painted in the country livery
KXW137 was RT2508 which spent some time at Harlow garage. Seen here at the Bus Station on route 805 the Town Service November 1963
During overhaul bodies were swapped, here is RT3285 now with an early RT3 type body from 1947/8, it originally had a Weymann RT8 body from 1951. Seen on Route 159 to Streatham Garage
RT 2561 (LYF 286) at Frinsbury Park Station on route 4A. Main blind is in upper and lowercase but rear blind was all capitals! Taken 1961 Oct or Nov.
Offside Photo of NXP946 RT4804 delivered 1954 in the forecourt of Victoria Station in 1963. the body is from an earlier batch. Ready for the long trip out to Potters Bar on Route 134
Greenline Liveried RT979 JXN7 at Hertford on Route 715A. These RT's were replace by RMC Routemasters as they became available in 1962
RT743 JXC106 heads for New Addingtone on Route 130 in early 1962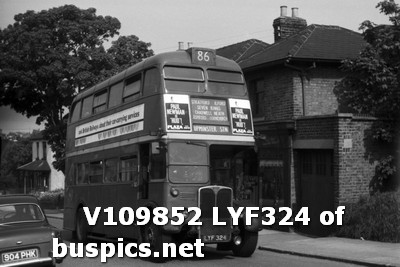 RT 2599 (LYF324) on route 86 to Upminster Station . Main blind is in uppercase only. Taken May 1963.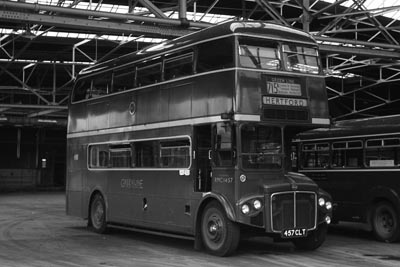 One of the earlier batches of Routemaster's were for the Greenline services. RMC1457 (457CLT) photographed in Hertford (HG) Garage on 14th March 1962.