Preserved Venture Bedford at Monbulk Victoria 28th November 2014
M & D NKT903 at Hastings Depot June 1962, it was a Leyland PD2/12 with a 58 seat Leyland body from 1951
East Kent Half Cab Dennis Lancet III set up with a Snowplough attachment 1961. Anyone know which one of the EFN series this was? Please let me knowand I'll send 3 East Kent 4 x 6 photos to the first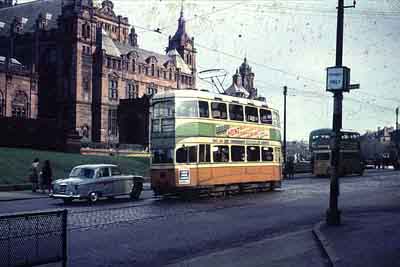 Glasgow Tram circa 1959
Right Click on following images
In Firefox and select 'View Image' to see a large Version
In Safari and select 'Open Image in New Tab' to see a large Version
In Opera and select 'Open Image' to see a large Version
Nobody I know uses Internet Explorer so don't know how it works there!
This feature is still being developed any feedback would be appreciated
Skinners had this AEC Regal III with a Harrington 33 seat body from 1950.
Sample of a Leicester City Transport Collection - have a look at list of photos above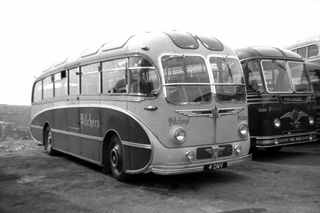 Pilchers of Chatham had this AEC Reliance / Burlingham Seagull coach. One of the best of the 1950's combinations
London Transport used the GS class for country routes with low loadings, width or weight restrictions. GS10 MXX310 was based at Hertford when photographed in March 1963.
London Transport RMC1486 was originally a GreenLine coach later relegated to country area bus. When photographed in 2nd July 2009 it was very country in the wilds of Kent. Dedicated enthusiasts have restored it to better than new despite the cost and problems accommodating a full size bus. My thanks to them and 500CLT for the experience of a private ride